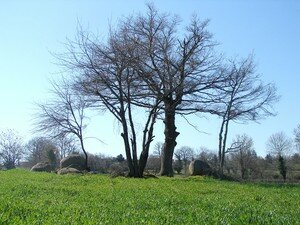 This Celtic site, on the passage of a Roman way, would owe its name with the worship of Isis. It was called at the Average Age Ids, contraction of "Isidis".
Being located at the top of joining of the eye and the brook of Cluzeau, it was a site of monitoring of the old ways carrying out in Auvergne, but especially the important way of Montlucon with Colombier.







Megaliths of the Stone-Ferns
the unit, on D 156 between Hyds and Montvicq: on the right of the road (to 800 m in the North of Hyds), bordering an overgrown and elevated field: "The Stones Ferns", gross hones round of 7 m height and 8 m in diameter resting on two cut pillars.