The dolmen is located on the commune of Roffiac, close to Verdenat.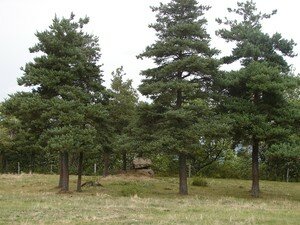 It is directed East-West and the hillock which covered it in its original device disappeared: remain only part of the superstructure.
They are two supports (orthostate), in the South, (1,50m X 0,95m X 0,35m) and in North (1,40m X 1m X 0,20m) and of the flagstone of cover (1,8m X 1,30m X 0,50m) carried out starting from the basalt outcrops doleritic (standard Bouzentés) present on the sector. It was restored in August 2003
The dolmen of Crousette is the major witness of the life of 5.000 years ago.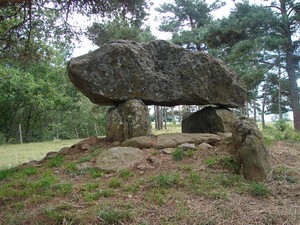 The restoration of this dolmen consisted in particular of the reconstitution of the megalithic room, composed of two orthostates threatening to collapse, and on which a table rested, but in an unstable way. With this intention, it was proceeded initially to archaeological excavations and surveys, in order to include/understand the initial position of the orthostates. This operation allowed the discovery of a furniture: heterogeneous elements of pottery, the objects lithic and the fragments of diaphyse of bone.
It occupies an interesting geographical position, at the end of a rocky outcrop overhanging Roffiac. It is also surrounded by wood of pines, which adds to its charm…
On the driving way with the dolmen, a cross recalls us that Christianity also passed by there.