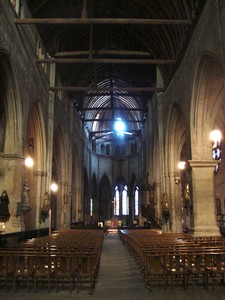 The city was founded at the 5th century around a small monastery which at the time mérovingienne becomes an abbey then a rich person and powerful priory.
It is starting from VIème century that one finds traces of the city in the history when Porcianus, a former pig-keeper who became abbot of a monastery and is established on an unknown date on this small height dominating the river. With the Middle Ages, the priory Benedictine, which depended on the Saint-Philibert Abbey of Tournus will prospèra at the same time as the city. It is in XIVème century that the borough was surrounded by walls. If the city were strengthened, the priory also, proof is the belfry which was then one of the turns of guet monastic enclosure.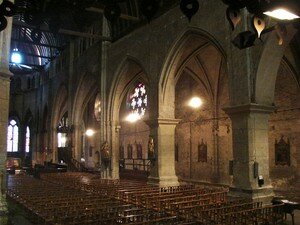 Prosperous city thanks to its vineyard, one finds trace to the National Library of it: during more than 2 centuries, Saint-Pourçain will have been one of the 8 royal monetary workshops, striking the royal one of gold of Charles V and the token of Anne de Baujeu, recognizable by the presence of a point under the 11th letter of the legend.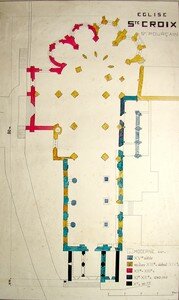 Old the prieurale Holy-Cross, now parochial, is a vast building which required several construction campaigns. It presents a porch dating from the beginning of the Romance time above which the bell-tower rises. The Gothic nave is covered with a frame in hull of vessel. Inside, the chorus whose roundabout comprises very elegant pointed arches, is excentric in the south and is surrounded by a déambulatoire with four radiating chapels with high altar of the XVIIIe century. The northern porch preserved the niches and the bases of its old statue-columns destroyed at the Revolution.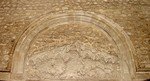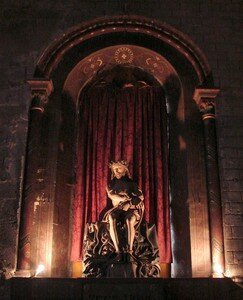 The stalls of monks Benedictines of XVème century, the statue of polychrome stone Ecce homo of the end of XVIème century and the Master furnace bridge of the XVIIIème century constitute the most beautiful objects preserved inside this church which have also an organ Cavaillé-coll of the XIXème century.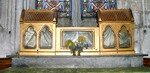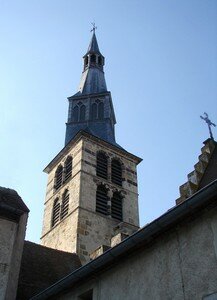 The Western part of the church is oldest, going up in XIème century, and forms the before-nave. The Nollet architect made his restoration in 1830 and used the sandstone of Coulandon. With the top of the frontage, southern side, draws up the bell-tower, him so resulting from several work campaigns: its base pourait to date from XIème century. Each one on its sides is bored of two windows in slightly broken arc, which supposes a bourgignone influence: Saint-Pourçain was a long time related to Tournus. The higher part of the bell-tower belongs to the Gothic and is laid out with 90° compared to its base. It was several times remade.