Sainte Thérence was a humble shepherdess who lived at the beginning of VIème century. One day that it crossed to ford to join the hermit Saint Marien, a storm caused a sudden rising. Whereas it drowned, the voice of God stopped the floods. To thank the lord, it conceived the project to build a vault.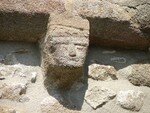 By keeping its herd, it collected the stones the day, filled of it a carriage drawn by its ass and carried them with the mason the evening while returning to the farm. One morning, a bear surptit and égorgea the poor ass. Thérence was annoyed, taken the bear by the ears and harnessed it with the charette. The bear replaced the ass… The come evening, Thérence released it and with its great surprise, found its ass in front of its door.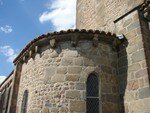 When the holy one died, in accordance with its will, its body was entrusted to a carriage harnessed by oxen, so that it is buried where they would stop. They fell to knees in a place which became Holy-Thérence.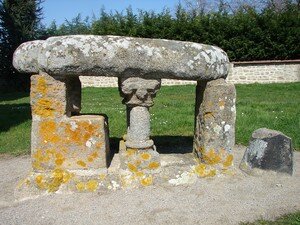 In the axis of the church, fall it from holy is presented in the form of a granite plate posed on two colonettes. People eager to calm the convulsions of their children will scrape the stone, put it in an infusion that they filter before leasing to make drink with the child.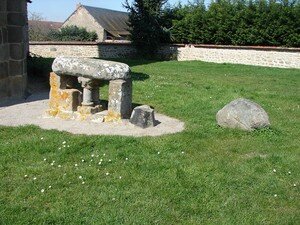 Sainte Thérence is represented in the church of XIIème century, the left foot on a dragon which looks it of a subjected air. It rapelle its legend showing it dominating, with the assistance of God, the paramount forces resulting from the ground.