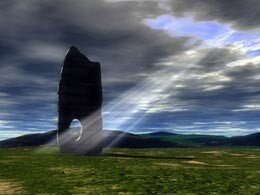 Until winter 1814, the stone of Odin was held in front of the circle of Stenness. this stone played an important part in the life of Orcadiens. It was dattée of approximately 3.000 before J.C. ; measured 2 meters 50 top for a width of one meter. Its characteristic was the hole which it had in its center.
The archaeologists found the place precisely where it was held, and we keep some drawings made by people before his destruction. (sketch of Elisabeth, marchioness of Stafford). She was located at approximately 150 meters in the north of the circle of Stenness, close to the farm known as of Odin.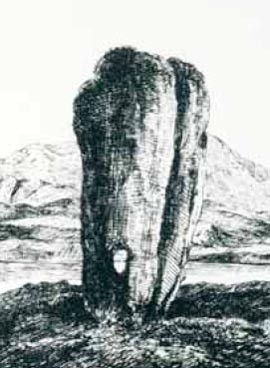 She was destroyed by a farmer who rented the grounds on which she was held. It was stopped by the inhabitants of the island before it does not continue its work on the remaining stones of the circle of Stenness. It nevertheless succeeds in destroying one of them! Besides (It failed to leave its life, its house there having been shortly after burnt. One does not joke with that on our premises…)
One day, a young man was led to the court by the old ones. He had given up his beautiful. Nothing serious good said the judge…. Ben if, they answered, it broke the promise of Odin… The promise of Odin? The old men then told the history: promised joined their hands through the hole of the stone and made a promise, which became the promise of Odin then, and not to hold it was sacrilege.
The children had passed through the hole to keep all their life a good health… It was of use to leave offerings, like a piece of bread, or of cheese, a clothing or then a small stone.