Not far from the plate of Cham of the Bungs, between Florac and the bridge of Montvert, beside a charming village named Rûnes, water of the brook bubbles which goes down from its source located at approximately three kilometers downstream from the Lozere Mount.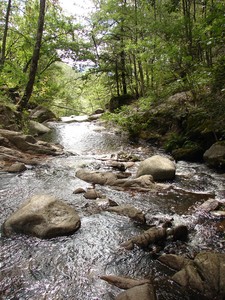 It is an abrupt change of incline which transforms water into cascade. The access path overhangs the river and, traversing it, you can admire the sight which extends to far to the edge from the plate from the Méjean causse.
Many guides present the cascade of Rûnes like one of the most beautiful natural sites of France.
Indeed, this place is magic, full with bubbling life. It would not be invraissemblable to see in the bath-tub dug in the rock to bathe the ondins…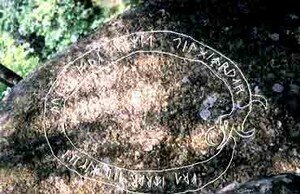 Moreover, the history of the place presents the arrival in remote times of the Vikings. They would have left engraved in the stone the trace of their passage. This stone represents Ouroboros, snake corrosive the tail. Inside, an inscription: "frà iordu himini bui frà himini til iorbar", which can result in "ground to the sky and sky into the ground". (Leamilly)
This petroglyph is quite mysterious. except if one considers that the place is a beautiful cosmo-telluric chimney!
Who said that the Vikings were large barbarians?