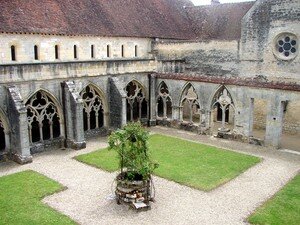 The cloister serves by its galleries all the essential parts of the abbey: the chapter house, the sacristy, the room of the monks, the refectory.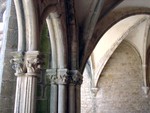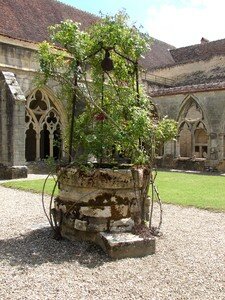 Its galleries open on a garden whose well is eccentric. One can imagine that a first cloister, square, existed before the reconsrtuction of the current one. Its groined vaults are still visible in the galleries north and south. The rebuilding started with the galleries north, against the church, then western, against the storeroom. The posts make it possible to allot these galleries to the period 1270-1280.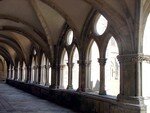 The southern gallery was very altered, and one assigns a dating around 1300 to him.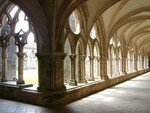 The Eastern part is dated from first half of XIVth century: arched warheads on square level, it presents broad arcades formed of a quadruple blind arcade and a hollow tympanum of an alongside pink of two curvilinear triangles, with clovers and polylobed profiles. One will notice the last blind arcade, whose tympanum forms a rose with 5 petals, contrary to the three others which have an opening clover. What does it occur there?
In decoration of foliage ((vineleaves and cistelle) which decorates the capitals, vis-a-vis the chapter house, two heads of man and woman. This is unexpected in a Cistercian abbey, and a message is surely hidden.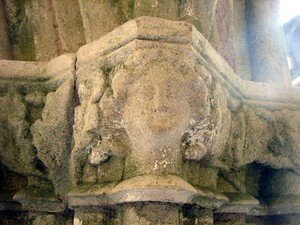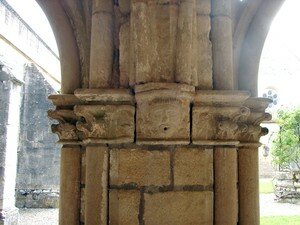 A little further, a head look at on the other side of the gallery, where we find an echo (bird?) surrounded by foliages. The mouth is open in the shape of O. It seems to me that a sacred network passes in this place.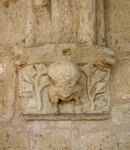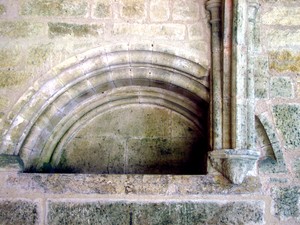 It is in this gallery that in 1893, the excavations allowed to find the grave from the founder, the abbot Robert de Châtillon, who died about 1163. The body was covered with a maroon bore-hole dress, capped, fitted of a pair of sandals. A stole violet and gold surrounded the neck. Beside, a stick out of wooden.