Hello,
You are more than 25.000 to have visited me since the creation of the french blog, and I would like to thank you.
(and more than 100.000 pages seen)
Sincerely yours…
(If you want the french version : http://lieuxsacres.canalblog.com/ )

NEW…
A forum is born :
http://energetiquementvotre.forumculture.net/index.forum
And if you want to take part and post photographs, go on:
http://lieuxsacresphoto.canalblog.com/
And for crowned places, here one:
SMALL EXPLANATORY NOTE
To reach a particular category, it is enough for you to click on the left, in "categories". If you seek for example the black virgin of Valfleury, you will find it in the album of the black virgins, (only in photograph), in the category "virgins black", and in the category "Valfleury".
You can also follow the wire of the voyage while clicking at the end of each page on "following page".
For the last studies, you will find them also on the left, in lower part of "categories", in "last messages".

Here my banner. Thank you in Rem which supported me on msn while it worked above…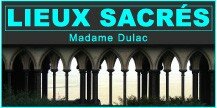 As regards the motivation of such studies, I leave the word to Gwelan which explained it in a way which touched me much in its site on the vibratory levels:
"For the very great majority among us, our implication in this radiesthesic discipline has matured with the frequentation of high vibratory places. They challenged us, educated, nourished… They were the essential ingredient of our awakenings.
I do not know what was thus given, not revealed with us. I suppose that each one will put at it the name which is appropriate for its beliefs, but it is one something which put to us in life, more, and sometimes even which revealed us with ourselves.
There is, between what is released from these places and ourselves, an intimacy even a new form of intelligence which was constituted gradually. It is with this intimacy, this intelligence, that it seems to to me interesting today to appeal, to endeavour there to foresee what is (perhaps) occurring: a phenomenon that we would not have to necessarily undergo, but which is perhaps a great progression appropriateness on the individual level. "
That it is thanked for it…