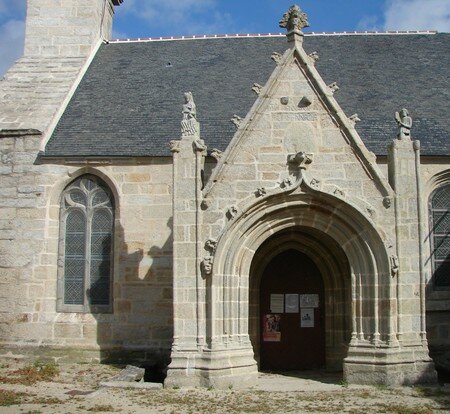 With the extreme point of Europe, in the middle of Bay of Audierne between the Point of the Strong current and the Point of Penmarc' H Plozevet is.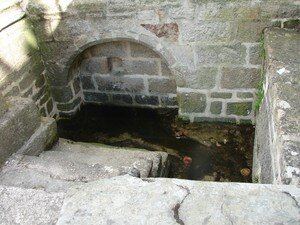 The sources of Plozevet appear parmis oldest known of Brittany. They are located under the foundations of the church Saint Galoneg and Demet, and spout out on the two sides of the principal door. It is about a sign which shows that a worship of the water of the Celtic time or even pre-Celt was christianized here.
Contrary to the logic of construction, much of churches which were to take the place of the old places of worship were set up on sources, so that during centuries, they were covered with foam. These churches are numerous in Brittany.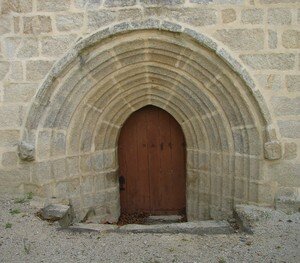 In Plozevet, one venerates Saint Galoneg and Saint Dislocates, which means into Breton "the valiant one" or "the brave man".
Saint Galoneg was an Irish monk and the mothers prononcaient the following words for exaucer their wishes for their children: "Holy Galoneg gives to our children two hearts, a heart of lion for acting well and a heart of dove for liking." (source: Guide of 117 crowned fountains of Brittany, Daniel spoerri at JMP)
The Paroissial enclosure gathers the Gothic church of XVème and XVIème centuries with its Romance arcades of XIIème, its 2 martyrdoms, the war memorials 14/18 and 39/45 located close to a impressionant menhir and in the vicinity, the fountain of St Théleau.
This fountain contains two granite massive statues representing of the saints. Saint Théleau (or Délo) was famous to cure fever.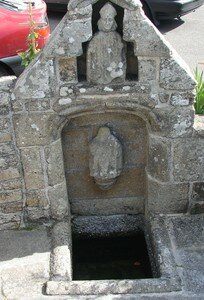 Plozevet was the first fountain of my way which I measured with a vibratory intensity except standard. But most beautiful remained to come…
to see here