In Saint-Menoux, the Saint Martin's day fountain, called sometimes by people of the country fountain of good Menoux is below the church, a few 200 meters further. It is then necessary to pass in front of a baker who makes his bread with the wood fire. It is a wonder to taste its potato pies, speciality bourbonnaise.
The fountain probably duidic, is christianized later.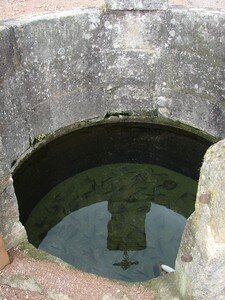 There one day, an enormous snake was installed on its curbstone, prohibiting whoever from coming to draw water. Saint Menoux slipped the end of his stick under the reptile and projected it with far while saying: "Where you will fall, you will be grass snake." The snake fell in a deserted place become the commune of Grass snake. Who says snake known as vouivre…
The linen washed in the fountain, dried then carried with very the skin with the reputation to cure the dermatoses. Formerly, the bredins there were plunged while the priest recited the speeches with Saint Menoux…
Water is very pure there, of fish elected residence there. The vibratory rate in is very high.